J4K4U.com Just4Keepers-NY
J4K Brand Products Available Nationwide
At J4K4U.com (Just4Keepers NY) we pride ourselves on making sure you and your goalkeeper are 100% satisfied with our J4K Quality Pro Products. If there is anything that you do not like about your purchase (size, color, style or even feel), Please Contact us. We Trust our Product Quality so we offer 60 day returns on all orders. Our Company is based in New York. Our Online Shop proudly serves New York and the entire United States.
About Coach Knight
Coach Knight has a great passion for the position of Goalkeeper. He has loved and played soccer all his life. He began playing as a young boy in South Jersey and currently still competes, year-round, on two recreationally competitive indoor and outdoor teams.
Although he started as a goalie in the youth travel leagues of New Jersey, he experimented with other positions on the soccer field throughout his JV and Varsity years at high school in Elmira and Albany, NY. During his college years at Rochester Institute of Technology, he returned to his passion of playing goalie for the strong intramural teams both indoor and outdoor. From then on, you could always find coach Knight in between the posts, truly believing that it is the best position on the pitch!!
He found his true calling for coaching young athletes about 15 years ago in a local traveling soccer club. He has coached young players, both boys and girls, of all ages and abilities. For the past two years, he has been the Boys Varsity Head Coach for Schoharie High School. Previously from 2014-2017, he was the GK Program Coach for Voorheesville High School. Here he would assist the Varsity coach and hold specialized training activities for all the goalies from the Freshman, Junior Varsity and Varsity programs to help them develop into strong keepers. Coach Knight holds the following certifications and diplomas:
USSF National D License 2010
USC Goal Keeping Level 3 Diploma – 2016 (Advanced National GK Diploma in process 2019)
US Futsal – State Level 2 License – 2016
United Soccer Coaches (USC, Formerly NSCAA)
Level 5 Diploma – 2013
NFHS/USC Professional Development Certificate – 2015
Special Topics Diploma: Training the Goalkeeper – 2015
Player Development Curriculum Diploma – 2015
Special Topics Diploma – Reading the Game – 2015
Special Topics Diploma – Small Sided Games 2016
Special Topics Diploma – Advanced Youth Coaching 2017
USC 4v4 Diploma 2018
Special Topics Diploma – Systems of Play 2018
Special Topics Diploma – Developing Your Players with High-Performance Technology 2019
Guided by his love for the game of soccer and the passion he has for the position of Keeper, he has the ability to pass along that passion and his knowledge to his players, helping them to reach their full potential.
Based on his dedication to soccer and goalkeeping, in 2015, Coach Knight decided to open his own local goalkeeping academy and joined forces with the international goalkeeping program, Just4Keepers! He currently holds weekly training sessions, operates ID camps and clinics, hosts training clinics for soccer clubs and provides goalkeepers with gloves, equipment and gear. He is also very excited to be offering his first residential goal keeper camp this summer in 2019.!!
Future:
Coach Knight, as NYS director for Just4Keepers, is proud to bring the high-quality training, services, gloves and equipment to all aspiring goalkeepers of New York and beyond.
J4K is committed to providing all areas of New York with qualified coaches, exciting programs and the opportunity to love the game as much as us!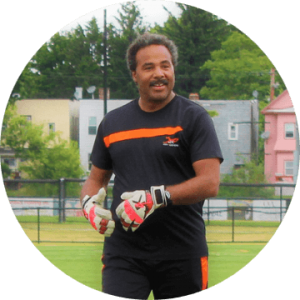 Thank you,
Head Coach Prince Knight
J4K-CDNY©2019