About Coach Prince Knight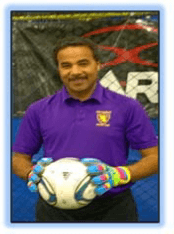 1646 Cotton Hill Rd, Berne NY 12023
Cell: (518) 857 – 2969
Email: PrinceKnight@J4K4U.com or PMK1969@aol.com
Philosophy
Soccer is a beautiful game full of many opportunities for kids to learn, live, grow and excel in sports. With
the right coach, this experience can be fun, rewarding and allow players to compete at the highest levels.
Mission Statement
"To foster a positive program that enriches the daily lives of soccer families by developing player skills, creating well rounded individuals and instilling a love for the beautiful game"
Current Coaching Certifications
Special Topic Diplomas & Relevant Courses
Private Coaching
       2015 – Present Just 4 Keepers – Capital District, NY – Head Coach, President & New York State Director.
        Provide individual and group goalkeeper training. Main program is a weekly training session for goalies ages 9
        through 17. Program follows the development guidelines of the international training program of Just 4 Keepers.
        As NYS Director, responsible for developing training programs across New York state. This includes the
       development of coaches and maintaining web sites, customer service and program expansion.
School Coaching
      2017 – Present Schoharie High School Varsity Head Coach – Schoharie, NY
           Head Coach for Varsity program. Responsibilities also include development of the JV and Modified programs.
      2014 – 2016 Voorheesville High School Program Coach – Voorheesville, NY
          Assistant coach to Willie Sanchez and the Boys Varsity team. Goalkeeping coach for Varsity, Junior Varsity and
         Modified teams. Coordinated Goal Keeper training events designed to develop future Voorheesville goalies.
        –          2016 The Blackbirds were runners up in the Section 2 Class B Finals losing 2-1 in OT
Club Soccer Coaching
        2017 – Present Global Premier Soccer (GPS), Albany, NY – Club Goalkeeping Coach
           Train all club goalkeepers (9-17 years old) on a weekly basis to enhance technical skills, improve tactical understanding
           and develop as complete goalkeepers under the GPS philosophy of play. Assist higher level goalkeepers in their
           pathway to playing at the collegiate level.
       2007 – 2018  New Scotland Soccer Club, Inc. – Voorheesville, NY
            2018 – Assistant Coach U10Boys, 2017 – Head Coach U10Boys, 2016 -Head coach of U17 Boys
            Previous head coaching assignments included two years as U16/17 Boys head coach (2014-2016),
            four years at the U12 Boys level (2009, 2010, 2012, 2013) and one year at the U14 Boys level
          (2011). Assistant coaching positions included U10 Boys (2007) and U12 Boys (2008).
Recreational Soccer Coaching
       2006 – 2014    Kiwanis youth soccer program, Voorheesville, NY
Other Clinics, Courses and Conventions
      2017 & 2018 International Goalkeeper Coaches Conference – Sawgrass Grand Hotel, Sunrise, Florida.
      2015 – 2019 (annually) NSCAA (USC) National Soccer Coaches' Convention
      2013 – 2015, 2017 NSCAA (USC) Soccer Champions Coaches' Clinic – Mohegan Sun, Uncasville, CT
Administrative Experience
      2012 – 2017 New Scotland Soccer Club, Inc. – President
         Responsible for all aspects of overseeing the board of directors for the club during the year-round activities
         including Spring outdoor league, Summer Camp, Fall Outdoor teams and Winter training academy. Was very
         instrumental in leading the club through the transition into becoming a not-for-profit, tax exempt, charitable organization.